FRANK X. BRUTON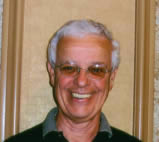 On behalf of all the members of Elite Security Specialists and the Volunteer Homeland Reserve Unit (VGRU), I want to express our sincere condolences to his wife Peggy of 53 years on the loss of her beloved husband and father of five children and ten grandchildren on September 28, 2016.
I met Frank almost 15 years ago and bonded immediately. Unlike most friends, our common bond was work. His help in developing the VHRU and creating Elite Security Specialists back in 2006 makes these entities so successful today.
Frank was born in Brooklyn, New York attended Brooklyn Prep High School and holds degrees from the College of the Holy Cross and St John's University, School, of Law. He was an adjunct professor at the University of Connecticut for five years and served as a communications officer in the United States Navy. He was my partner in Elite Security Specialists and the Treasurer of the VHRU for the past 15 years.
Many times Frank and I would talk about various issues regarding our security companies business and our staff. I can honestly say, we never had an argument, we always would agree after our discussion. He was a fair person and cared for others. He was always willing to assist financially when people we knew needed a helping hand.
There is a saying, "If you have one good friend in life you were a very lucky person" I was lucky to have known Frank who was that person to me. I will miss him but he will never forget him. Ted Farace
---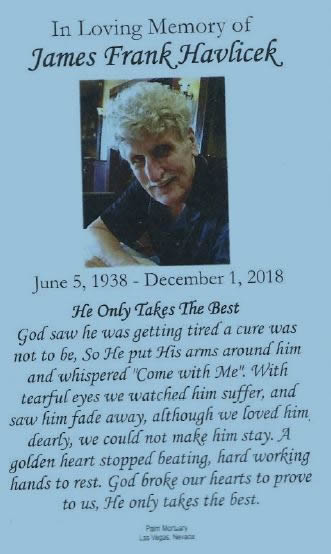 ---
MELVIN WILBUR RAMOS, born 9/25/27 in California. Mel joined the Navy and after his service, joined the San Jose Police Department as a Special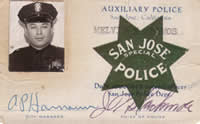 Police Officer. Mel moved on to the Lompoc California Police Department and spent 25 years in that department before retiring. He attained the rank of Captain during his years of service. He relocated to Laughlin, NV in 1997 and became involved with the Bullhead City Arizona Police department as a volunteer and later helped create the Las Vegas Metropolitan Police Department Volunteer Program (MVP) at the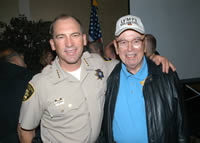 Laughlin Police Sub Station. Mel joined the Volunteer Homeland Reserve Unit, in 2001 and took on the responsibility of being the Laughlin Squad Leader and was instrumental in developing the Laughlin Team by his recruitment efforts. In 2004 the BBC produced a movie about a Homicide case in Lompoc California in which Mel played himself. Mel was also an active member of the Laughlin American Legion Post.
Mel will always be remembered for who he was, a caring individual who loved to help all people all the time.
9/25/27 - 6/29/05
---
Memory of Sgt. Jimmy L. Duggan, LV Metro P.D.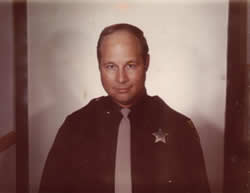 The Board of the VHRU thanks Jim E. Duggan, the son of a former Las Vegas Metropolitan Police Department Sergeant for all his assistance. Mr. Duggan was instrumental in obtaining the necessary radio equipment for our use. This will now give the VHRU the ability to talk state wide in emergency situations on our own frequency.
The VHRU would like to honor Mr. Duggan's father, Sergeant Jimmy L. Duggan who worked with the Las Vegas Metropolitan Police Department. He started his career on 8/16/62 and resigned a short time later to get married. Sergeant Duggan rejoined Las Vegas Metropolitan Police Department on 1/5/63 and worked at McCarran Airport until he retired on 12/31/86.